Lead Parents Model Improved Health for Community
Community change begins with hardworking local couple
George and Marine may seem like an ordinary couple in the rural farming community of Ankafina, and in many ways, they are. The husband and wife are in their mid-forties, they have eight children together, and they earn their livelihood from the crops they grow and sell.
But in this community, they are no common couple. As Lead Father and Lead Mother, the active pair serve as a bridge between the skills, knowledge, and awareness-raising provided by ASOTRY and the needs of their community.
When communities participate in the ASOTRY project, they are electing to change nearly all aspects of their life, in the components of health, agriculture, and livelihoods. The learning curve can be steep, and the long-term commitment can be daunting.
By working with community-appointed Lead Mothers and Lead Fathers, ASOTRY Field Agents initiate local change from the inside out. Instead of overwhelming villagers with programmatic details, they train a select few to guide the process.
"The community appointed me as Lead Mother to teach mothers to vaccinate their kids, weigh their babies, encourage them to go to health centers for prenatal care, encourage them to attend nutritional feeding sessions, teach them about handwashing, clean the courtyard and the house, and to treat water," Marine said. "A Lead Mother is like an animator, a person who educates the community about health topics. It is important that the men and women are healthy."
It is equally important that the men do not prevent their wives from learning. This is where George comes in as Lead Father.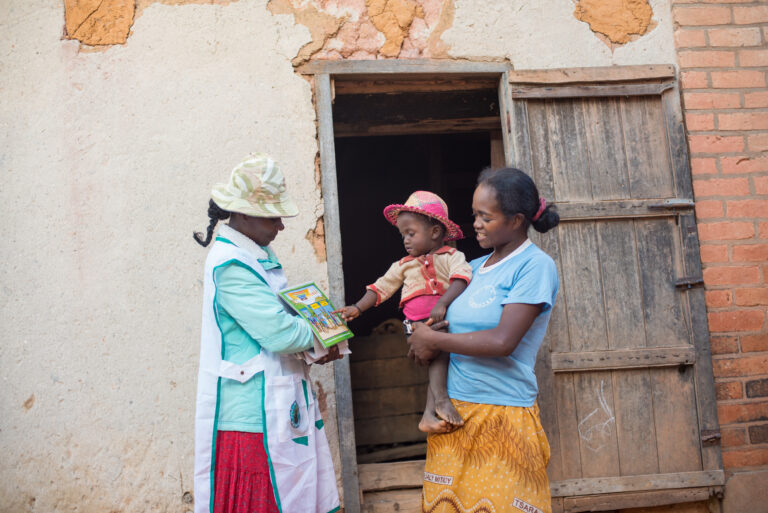 "The men can be an obstacle for the women to participate. If there are many tasks to do in the house, the men don't let the women attend trainings, or they prefer the women go to the field to work," George said. "Because they can prevent them from attending the trainings, I decided to help the Lead Mothers to convince the men to let their wives attend the trainings and get skills and knowledge to apply in the household."
With people like George and Marine in place as community animators, ASOTRY continued to provide the activities that have changed lives in Ankafina.
"The village is cleaner, and we have fewer kids suffering from malnutrition because we apply the rainbow food diversified diet," Marine said. "Now, the community has applied everything that ASOTRY taught us. We are happy to benefit from all the things we have learned about health." George agreed.
"The standard of living was quite poor before the project came," he said.
"Now it is different because we have acquired new techniques. As a Lead Father, I see that it is important that we are healthy because we cannot work if we are not healthy."

"We thank the project for all the things they taught us, especially in health," he added. "We are willing to apply everything they teach us, and we will keep applying these things in our life."