All the Colors of the Food Pyramid
Rainbow Food improves diets for children and mothers in Mahasoabe
The hilltop village of Mahasoabe is a place of vibrant beauty; the grass is green from recent rains, flowers of red, yellow, and purple dot the landscape, and clothes of all colors hang out to dry.
It is fitting that the USAID-funded ASOTRY project has brought Tsikonina to this community.
Tsikonina is a maternal and child health and nutrition program that encourages, among other components, the concept of Rainbow Food—that one's diet should be as colorful as this scenery.
"The mothers didn't always know about diversifying the diet. They kept giving the same food to their children every day," said Community Health Volunteer (CHV) Thérèse Marguerite. "The food is not suitable for a child. The child does not get enough nutrients or vitamins."
"Rainbow Food has nutrients and vitamins that make children grow well," she added.
In this fertile region, Rainbow Food consists of the many naturally occurring foods available, including cassava, rice, sweet potatoes, taro, green leaves, lettuce, cabbage, carrots, tomatoes, onions, beans, groundnuts, peanuts, and fish.
"I help mothers learn that they should give better food to their children," Thérèse said. "I teach them to make nutritious recipes for children using locally available food."
Hélène Tahianjanahary is one such mother. The 32-year-old single mother of two has struggled to provide for the dietary needs of her children, especially her youngest, who is only two-years-old.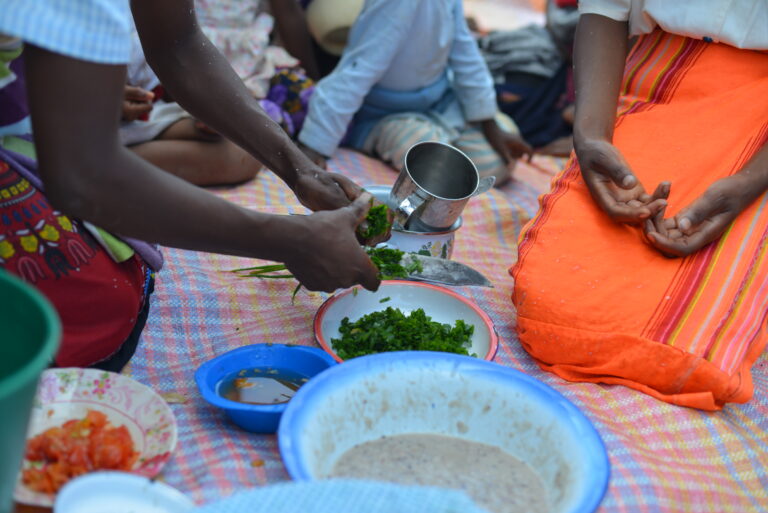 "After my son was born, my husband chased me away," she said. "Both my parents are already dead, so I am the only one left to look after my kids.
I don't have any support to meet the needs of my children. Many times, I am struggling to find food for them."
When ASOTRY field agents came to the village, they began with weighing babies under the age of two. At the time, Hélène's son was 14 months old, and weighed only 19 pounds.
"I have regularly weighed my child since ASOTRY," she said. "In the beginning, his weight was not stable—sometimes he was very underweight.
When I did growth monitoring with the project, they found the child needed to be taken to Tsikonina to follow the program. I accepted and was willing to participate."
Tsikonina sessions last at least 12 days—six in hands-on group sessions and six at home with support from the Community Health Volunteer.
Within those 12 days of learning how to use improved cooking techniques using diversified ingredients, Thérèse noticed a difference in her son.
"After six days, my son weighed 21 pounds," she said. "After the full 12 days, he weighed nearly 22 pounds."
Now her toddler son is a healthy baby boy full of life and health. Gone are the days when the small boy was given only boiled cassava. Now his mother knows to diversify his diet with a variety of fruits, nuts, and grains.
Though Thérèse still works hard to provide an income, she now has better techniques to maximize the naturally-growing crops of this region.
"I feel very happy because I am not worried about his health anymore," she said. "I will keep preparing good food for my children—food with vitamins and fruits."